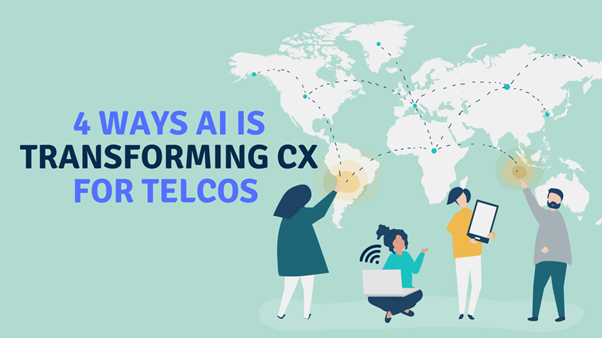 With millions of subscribers and a growing number of telco products, today's communication service providers (CSPs) are struggling to maintain high-levels of service standards and delightful customer experience while keeping a check on operational costs.
How can telcos provide proactive, personalized, and seamless service experiences while increasing revenue?
Innovative AI-based automation provides the solution to meet ever-increasing customer demands, create a competitive edge, and of course, improve customer retention.
Here are some of the use cases where AI can offer very effective solutions to the challenges faced by CSPs today-
Digital onboarding
Traditionally Telecom companies have been largely dependent on physical contact centers or franchisee networks to onboard new customers. With AI, CSPs can remotely onboard new customers seamlessly via channel (WhatsApp, Facebook, web etc.), thereby not compromising on the revenue generation or customer experience.
New Customer Onboarding : Fully Self-service onboarding with OCR and Machine vision for faster document upload, face recognition, live- customer ID verification across channels and across languages.
eKYC : Complete eKYC customised as per the compliance and regulations with text extraction and image & video verification to assist customers complete transactions through digital wallets within the platform.
Multi-Factor User Authentication : Activate new connections and enable secure transactions and payments with multi-level user authentication via OTP, account details etc.
Hyper personalized recommendations
Telecom companies have access to huge amounts of valuable customer data, which can be strategically leveraged using AI and big data to create unique customer experiences while driving revenue growth. Improve customer engagement and conversion with AI powered real-time product recommendations and targeted marketing promotions.
Upsell and Cross-Sell : Increase order value by proactive personalized recommendations across all customer touchpoints based on customer persona created by pairing contextual data with available customer information.
Personalized offers : Customized plans and bundles for customers based on their service usage patterns e.g. data consumption, streaming patterns, digital footprint, call time per month, etc. and automatically deliver personalized offers and notifications.
Digital sales & Partner Ecosystem: Increase revenue with effective lead management and product recommendations. Expand engagement base and manage product/service bundles with ecosystem products.
Customer Support and Service
Decrease the traffic load on your call centres and improve efficiency by automating FAQs and shifting to self-serve mode with digitising your customer interactions and as a result improve your customer satisfaction score.
Automated FAQs & workflows : Automate FAQs and enable frictionless Self- service across channels, with domain-specific NLP and contextual conversation flows to assist throughout the customer journey.
L1 Support : Leverage AI to offer support for level one queries such as broadband connectivity issues, Activating new services, etc., and optimize operations by utilizing existing resources to offer complex technical and L2 support.
Skill-based Handoff : Initiate agent handoff to bring a human in the loop in case of complex issues and drastically improve first contact resolution rates by connecting customers with agents best suited to handle the issue at hand using skilled based routing.
Distributor and Partner Management
Telecom industry works with a large distributor and partner networks, managing which can be a complicated and cost-intensive process. Using AI telcos can remotely manage their partner base, assist them, and improve their performance.
Partner Onboarding : Digitally onboard and train partners and offer automated FAQs and product/service updates.
Customer Service Support : Offer support to partners and equip them to handle customer requests and address grievances directly or indirectly.
Analytics and Report : AI analytics gives you the ability to dig into performance levers with product, region and distributor wise analysis.You can identify profitable market segments, analyse product mobility and use the information to improve revenue generation across segments.
Simple and convenient customer interactions are the key to customer success within the telecom sector. AI powered chatbot can offer real time support and consistent service across all touchpoints and channels of engagement, resulting in higher ARPUs and Net Promoter Scores.

TelcoBuddy enables you to leverage AI across multiple platforms including WhatsApp and Facebook messenger, and offer your customers the convenience they are looking for. Provide a delightful customer experience throughout their customer journey with hyper-personalized interactions and frictionless service while cutting down operational cost manifold.